"Can you hear me now?!" Nope!
It may have everything to do with the fact that my cellphone is in the toilet, submerged in all its who-knows-what-is-floating-around-in-there glory.
Yeah...tell me about it.
Or, it could be that I put it on top of the car for a quick second, hopped in the driver's side, started the engine and took off with the cellphone
still
on the top of the car.
Tire wheel + cellphone = No bueno!
Let's not even "go there" when I make mention of that girls night out where I suddenly remembered that my phone was missing...the next day.
Blame it on the ah-ah-ah alcohol. Yup.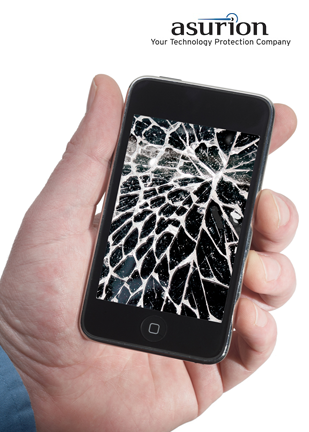 Just call me, "butter fingers", because I lost grip of my cellphone and it collided with the hardwood floor. It sounded a bit like this -- boom! bam! crash! Hello, cracked screen.
How many years of bad luck again?
So what do you do when you lose, damage or destroy a "social networker's best friend"? What happens to the photo memories, the video clips of your child learning to ride a bike or taking their first steps? Imagine the heartache when you cannot tweet a picture of your cracked screen, update your Facebook status detailing the events of your phone fatality or text your friends with a string of emoticons and OMGs.
Who you gonna call?
Ghostbusters?
Maybe if you had a phone you could. But for now, you'll have to rely on another method.
Asurion. Your Technology Protection Company.
Did you know...
60,000,000 people in North America will lose, damage or have their phone stolen this year. To break it down, that's about 164,000 per day, 114 every minute, 2 every second.

Protecting your phone by purchasing insurance is the best and easiest way to have peace of mind. Make sure you include it with any new phone purchase, within 30 days of activation.
Without insurance, you are looking to paying retail prices to replace your lost, stolen or damaged phone and most phones are not cheap.
Of course there are ways to avoid having a mobile mishap.Try buying a silicone protector or a case for your phone that will shield it from scratches and impact. There are also waterproof cases to minimize the damage when your mobile phone is submerged in water.
The moral o f the story is: protect your phone.
It's that simple.
Visit
http://www.asurion.com
for more information.
In the event that you are one of the fortunate ones whose mobile phone survives, I have just the giveaway for you.
a Rafflecopter giveaway
Disclosure Information
Asurion sent me a gift card for sharing my mobile mishap story. There was no monetary compensation for writing this post. The opinions and views are my own.